Prezi
Card's author :
Outils-Réseaux et SupAgro Florac
Card's type of licence :
Creative Commons BY-SA
To begin with :
Prezi is an online presentation software. Its peculiarity, compared with classical presentation software such as Impress or Powerpoint, is that the presentation is not linear. The whole of the presentation is on only one space, you reach information by zooming in or zooming out.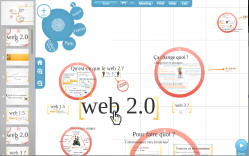 Introduction :
Example : a lesson about cooperation by Jean-Michel Cornu


Requirements :
Creating a Prezi account
Being connected to the internet
Having a Flashreader software on the computer (for Prezi editing)
Some practical uses :
Project presentation, face-to-face or remote
Creation of a course notebook or of an online educational software
Remote part-creation of a presentation
Advantages :
More dynamic presentations !
Well-adapted to a presentation in a logic of attention (I adapt the presentation to the audience's attention). This notion is the opposite of the logic of intention : I bring my audience from A to B
Allows to organize yourself in a mindmap way or in a linear way.
Downloadable presentation, which means an internet free presentation
The downloaded presentation is self run-time, no presentation software is needed on the computer.
Access to presentation is possible from any internet connected computer
Enables synchronous and asynchronous co-edition
Drawbacks :
In its free version, creation can only be done online
Beware of motion sickness by abuse of rotating effects
English interface
In the free version (except for Education) all presentations can be seen online, there is no private space
Licence :
Proprietary software, Freemium
Setting up :
No setting up
---