YesWiki
Card's author :
Outils Réseaux
Card's type of licence :
Creative Commons BY-SA
To begin with :
YesWiki is a free wiki engine, modular, under GPL licence, which allows to create and manage a website or an intranet. YesWiki is particularly intended for groups wishing to be equipped with an internet-cooperating tool.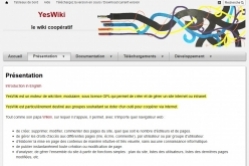 Introduction :
Just like its dad Wikini, on which it leans, YesWiki allows with any web browser :

the creation, deleting, modifying, commenting of web pages, whatever the number of publishers and of pages.
the management of file system permissions to different pages (read, write, comment), by one or a group of users.
a visual and intuitive laying out of contents, without IT knowledge.
the instantanous publishing of any page creation or modification.
the analysis, the management of the site from simple features : site map, list of users, list of the last modified pages, etc.
YesWiki is also:

templates, adjustable to each site.
the generalizing of the wiki principle to the whole site : modification of the title, banner, menus, footer etc. with a simple double-click.
a flexible antispam.
the ability to join to each page an office or multimedia file with posting or reading of the content for images, sounds, videos, mind maps.
a manager of extensions allowing to add new features such as database, key-words, microblog, shared forecast etc.
YesWiki can be set up on a Web server bearing PHP 5 and more and a database MySQL. Once set up, the site is directly operational and everything is managed online with any web browser.?
Requirements :
Having a PHP / MySQL web hosting
Some practical uses :
it helps to approach existencial matters !
it helps to create a potentially collaborative website easily
it helps to keep the control on the website
it helps to think about the question of power
it helps to set up intranets
it helps to co-write books
it helps to co-build projects
and it helps to demonstrate that project that are co-built are feasible and efficient
it helps to demystify the internet
it helps to do databases even better than a Googleform
it helps to point out the people who really want to cooperate (others say that anyone can change their name)
it helps to spot the IT specialists who see in cooperation safety weaknesses
it helps to remove passwords in order to act
it helps to show that Wiki can also rhyme with pretty
it helps to increase one's skills for the sake of the whole team
Going further :
Documentation "get on's hand dirty" for the setting up, the configuration, the customization

Advantages :
very easy to start writing
flexible (extensions of databases, qrcodes, etc...)
the new features given by extensions offer multiple cooperative possibilities.
easy-to-edit menus
Drawbacks :
Need to know the specific wiki syntax
the"tools" extensions add complexity: be careful to add them when the group is mature enough.
small community of developers.
Licence :
Open sources, Free
Setting up :
Reserved for IT Jedis
---