Un total de 10 pages ont été trouvées avec le mot clé
Organiser et planifier
.
CooperationOrCollaborationWhatDifferences
le 16.01.2014 à 16:57:31

Cooperation or collaboration : what differences ?
Card's author :
Outils-réseaux
Card's type of licence :
Creative Commons BY-SA
Description :
Between cooperation and collaboration, the difference is finely shaded.
F. Henri and K. Lundgren-Cayrol analyse in a very clear way the difference between these two notions.
The following presentation resume widely this analysis.


The first difference : how is the work shared?
Generally, collaborative and cooperative groups work together on a common or shared purpose.
The difference is very much visible in the way the work is shared :

By cooperating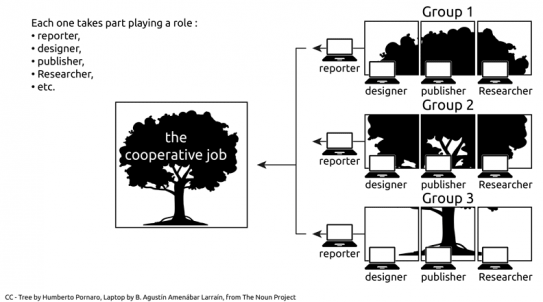 The group is divided in specialized teams which take over part of the tasks. Members of each team have specific responsibilities. The set is achieved only when all members have done their part of the work.


The first difference : how is the work shared?
By collaborating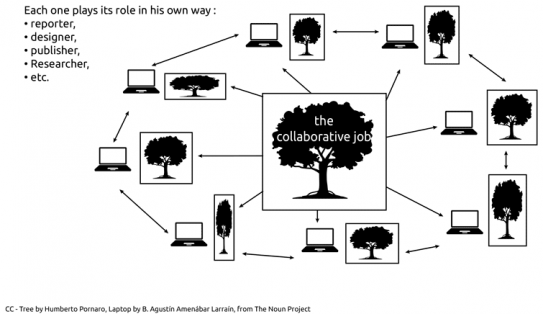 Members of the group work on a common purpose. But each, individually, tries to reach by himself the consensual purpose. Two productions occur in parallel : a collective production and the individual productions of each participant.

Other differences
From this way of doing the common task ensue other differences :

Groups maturity
Interactions between people
The way to consider the purpose
Groups maturity
The cooperative approach is more structured and framing. The manager organizes and "checks" the work. That kind of work suits better the "child group";
The collaborative approach is more flexible and members of the group have more freedom. It suits the "adult group".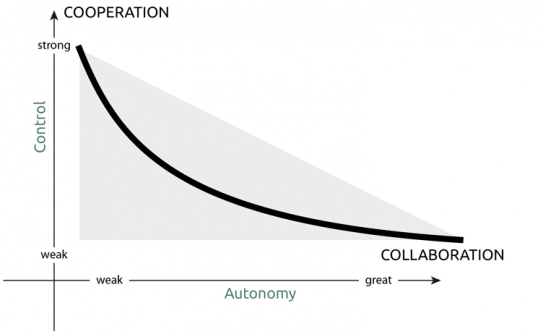 The cooperative approach can be seen as a method of initiation and preparation to true collaboration.

Interactions between people
Interactions between members of the group play a major role.

by cooperating, the complementarity of tasks creates a feeling of mutual dependence, interactions are therefore very strong but "hierarchized"
by collaborating, pooling of ideas prevails, interactions are rather associative, they are then richer and more intense.
The way to consider the purpose
Why are we working together?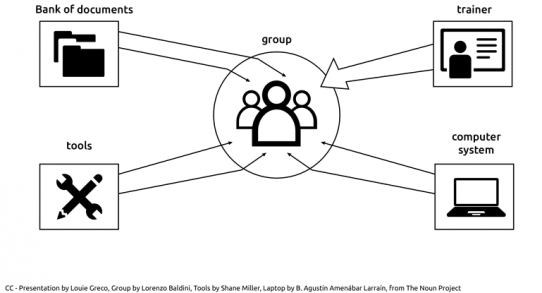 By cooperating, each member is responsible for an action or an under-task. The purpose is a collective production, the group reaches a purpose as an entity.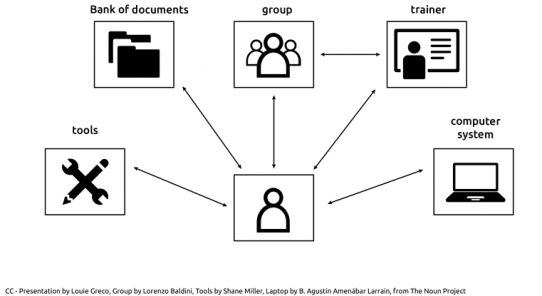 In collaborative approaches, each one uses all the resources within the group.

In conclusion
These two notions are not "stabilized" yet even though we agree that collaboration involves a more democratic process: relations are more egalitarian.

Cultural filters are strong and in both cases they may have a "negative" connotation :

"collaborate" sends back to the dark days of World War II,
"cooperating" associates with abusive policies of rich African countries


In reality the difference between these two ways of doing is not as clear-cut: we swap easily from one approach to the other
EvernotE
le 16.01.2014 à 10:46:34
de 193.50.71.234
Evernote
Card's author :
Emilie Hullo, Outils Réseaux
Card's type of licence :
Creative Commons BY-SA
To begin with :
Virtual notepad, Evernote is a free tool that allows you to manage your everyday information more easily by centralising all data in one single place.

Registration is free. There is also a premium version (for a fee) with advanced functions (1G of downloads per month, access to technical support and improved security).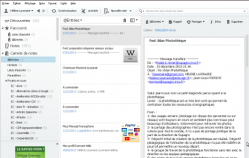 Tool's boxes :
Online Office Automation
Requirements :
Internet access.
Some practical uses :
Evernote offers multiple functions:


Webpage captures with text, links and images.
Saving and filing information as notes on a personal site.
Organising and structuring notes organising them in notepads and key words.
Keeping them for an unlimited time.
Advantages :
Simple to use, this software allows centralising all your data using an intuitive interface which can be synchronized on different devices. It can also be used on mobile devices: iPhone, iPad, BlackBerry, Android, etc.) and provides extensions that can be added to the browser toolbar to capture contents directly while browsing the net. It also offers the possibility of searching your notes by keywords, by title or by site. Evernote also allows sharing files with other users.
Drawbacks :
There is an online software version on their website and also a customer version that must be installed on each computer and mobile device (Mac, Windows, Android). It does not yet support videos (except webcam feeds) and has a text editor which is slightly limited. Finally, the free version only offers the possibility of reading notepads from other users, but does not allow editing them, which limits a collaborative use of Evernote.
Licence :
Proprietary software, Freemium
Using :
It could be easier but also more complicated
FramadatE
le 09.01.2014 à 16:30:36
de 193.50.71.234
Framadate
Card's author :
Outils-Réseaux et SupAgro Florac
Card's type of licence :
Creative Commons BY-SA
To begin with :
Small and simple tool to agree on a date with a group or to create a small survey.
Requirements :
internet access is needed
Some practical uses :
Establish a date for a meeting
Choose a logo
Choose a name for the group
Going further :
Only suggest dates when the people who are required to attend are available
Avoid suggesting too many dates, as this dilutes answers. A possible consequence of this: the date with most votes only represents a small minority within the group.
Set a deadline for each survey
Pay attention when several Framedates are open: take note of replies
Advantages :
It perfectly meets the needs of groups when searching for a common date.
The fact that other participants can see the replies of others encourages them to reach a consensus.
This tool is extremely easy, using it with beginner groups can be a first stage, a "small and irreversible experience".
Free software
Hosted by a "Loi 1901" association: data are not kept or resold.
It avoids flooding an email account with useless emails when trying to agree on a date among several people.
Drawbacks :
This tool does not solve the issue of unavailability.
Those replying first have more advantages.
Not convenient for confidential meetings or secret choices, since with these surveys participants are visible to everyone.
This service is maintained by volunteers: service availability is not guaranteed
Licence :
Open sources, Free
Setting up :
No setting up
FreeplanE
le 16.01.2014 à 10:58:49
de 193.50.71.234
Freeplane
Card's author :
Frédéric Renier, Supagro Florac, Outils-Réseaux
Card's type of licence :
Creative Commons BY-SA
To begin with :
Freeplane is a free software application which can be settled locally on the PC (Mac, Windows and Linux). It allows the creation of mind maps and their html export in a webpage.
a heuristic map is a mind map.
Introduction :
To start a mind map, the topic of reflection is placed in the centre. For each new idea linked to the topic, a branch is created and the idea is written in a node. Then the branch is developed by creating secondary branches.? - When all the ideas are on the map, it's time to format it, to add icons, drawings or images, to choose colours for each branch. The more formatted and illustrated, the more understandable and easy to remember it will be.?
To translate visually the hierarchy of ideas, we generally go from the general (written large and in the centre) to the specific (written smaller and smaller as we move away from the centre) .
With mind maps both cerebral hemispheres work in synergy. Association and imagination process peculiar to thinking can notably be used. Having to locate a concept somewhere on the map forces to think about the other concepts.
Requirements :
None, this kind of idea's presentation is appreciated or not.
Some practical uses :
In a group the mind map can help to show the diversity in opinions. It notably allows to show antagonistic ideas.
Brainstorming.
Report, book, site map writing. Freeplane enables the export to or from an Openoffice map.
Memorization
Writing of an abstract
Managing a plan (for example by using the advanced function of filters and attributes)??
Going further :
It is worthwhile knowing the software's main keyboard shorcuts
Advantages :
It is a tool which enables to show a problem's complexity
There are numerous online resources about mind maps (how to use, examples, tricks...)
Drawbacks :
Freeplane is a software with numerous functions, which can be difficult to handle.
Licence :
Open sources, Free
Using :
It could be easier but also more complicated
GoogleCalendar
le 16.01.2014 à 11:06:35
de 193.50.71.234
Google calendar
Card's author :
Hélène Laxenaire - SupAgro Florac
Card's type of licence :
Creative Commons BY-SA
To begin with :
Google Calendar is a tool by Google that allows keeping an on-line calendar (available on a computer or a smartphone) that can be shared or posted on a website. This tool allows sharing an organization's events or meetings calendar, knowing the planning of collaborators and also establishing a planning to book resources (a room, for example).
Tool's boxes :
Online Office Automation
Introduction :
Google Calendar is an on-line calendar that can be viewed on-line and shared. It can also be posted on a website. Google calendar allows importing other planning (created with Google Calendar or with ICS format) enabling you to visualize several different calendars on a same page. Finally, it allows group members who use Google Calendar to see each other's availability and invite them to a meeting on a given date and at a given time.
Some practical uses :
posting upcoming meetings of an association on a website
sharing a calendar to determine the arrival times of speakers at an event. Everyone gathering information on arrival times can write them on a same calendar which is then used to see who will be going to pick them up at the station.
manage the bookings of a meeting room
Advantages :
It allows seeing the availability of all members quickly
It allows several people to gather information on timetables
Calendars with ICS format can be imported and exported for other software such as Thunderbird, so the calendar can be shared with people who do not have or do not wish to have a Google account.
Drawbacks :
It is an on-line calendar, meaning that there are more constraints than using a paper calendar, except if on a smartphone
It still belongs to Google!
Licence :
Proprietary software, Free
Setting up :
No setting up
GoogleDrive
le 16.01.2014 à 11:44:38
de 193.50.71.234
Google Forms
Card's author :
SupAgro Florac
Card's type of licence :
Creative Commons BY-SA
To begin with :
Free Google Document tool that allows creating on-line surveys with results displayed on a chart.
Requirements :
Having a Google account
Some practical uses :
Introduction files of the members of a network of the participants in a meeting
Balance of an operation
Registrations for a meeting
Gathering the skills or needs of group members
Creating a letter using an address list (advanced functions)
Examples
Advantages :
Quick and easy to configure
It allows recovering and centralizing information and notifications from a large number of people easily
Results can then be exported to a Calc or Excel format to process them in greater detail.
Forms can easily be integrated into a wiki or a blog
Google gadgets allow processing the results in a chart or graphs
Drawbacks :
Data is saved on Google's server (permanence, Google has access to your data)
Google Document offers limited functions for detailed data processing
Licence :
Proprietary software, Free
Setting up :
No setting up
IAmNowHookedOnOnlineSpreadsheets
le 17.01.2014 à 16:47:25
de 193.50.71.234
I am now hooked on on-line spreadsheets!
Card's author :
Claire Herrgott
Card's type of licence :
Creative Commons BY-SA
Testimonies :
I am the pedagogical coordinator of a vocational training course. Saying coordination means OR-GA-NI-SA-TION!
It is not easy to centralise information, avoid overlapping and keeping students, teachers and partners updated!
After the COOPTIC training I know understand the benefits of cooperation and I try to be a "cooperative coordinator"!
A small example: we can multiply spreadsheets for the students of each course year (a spreadsheet with their information, topic of their research paper and internship tutor, etc.)
I created a single on-line spreadsheet that is filled in at the start of each year, when the research projects begin. Students then fill it in during their project; the academic assistant and the coordinator (me) complete the information on the spreadsheet to indicate if the agreement has been drafted, signed and sent; the team of teachers then fill in the column on "name of tutor". Once the students have started their internship, they then enter the information on their internship tutors, etc. and I use this to organise the support.
No more different spreadsheets to save on the server, to email, not knowing what version to use…now I use one single spreadsheet that is accessible to all and from anywhere!

A small anecdote: during a quality audit the Internet crashed and my spreadsheet was no longer accessible! Since then I always import in ods. format so that the same situation doesn't happen again!
InfobesityIAmGatienIAmInfobeseButILo
le 17.01.2014 à 16:46:31
de 193.50.71.234
Infobesity: I am Gatien, I am infobese but I look after myself
Card's author :
Gatien Bataille
Card's type of licence :
Creative Commons BY-SA
Testimonies :
Last night, in the building behind the cultural centre


Me: Good morning to all, I am Gatien and I am infobese
Everyone: Good morning Gatien!
Facilitator: Gatien, could you tell us about yourself?
Me, after taking a deep breath: I am unconsciously passionate... I am terribly frustrated because I can't follow the flow of information that circulates in the world every day, every hour, every second. I was engaged in many networks and naturally curious, I read magazines, all the latest books, I listened to the radio…and until recently I could manage all this…then the Internet arrived. Twitter, podcasts, webzines, newsletters, Google alerts, RSS threads…the range of possibilities became wider and wider and with an even greater number of fascinating topics. At the beginning I was overjoyed, but then frustration gradually moved in…too much interesting information I could not keep track of, I read through it all but never with enough time to go in-depth. The joy of constantly swimming in a pool of information rapidly became a feeling of drowning.
Facilitator: Gatien, how did you feel at that time?
With a trembling voice: I was so frustrated...also enraged with myself because I couldn't follow the rhythm.
Facilitator: Did you really think you could follow it all?
Recovering: No, I quickly understood that even if I used all my neurons, it would be utterly impossible to face this gigantic wave which grew larger and larger by the day. It's an unpleasant feeling…I had secretly hoped to cope with it.
Facilitator: So then what did you do?
Me: Initially I tried to be more organised. I was convinced that I could overcome this small hiccup by being better organised. I sorted emails automatically in my inbox. I cancelled my subscription to several newsletters, I organised my RSS threads and would only open articles that seemed truly relevant, I cut down on Twitter…
Facilitator: and…?
Me: Well…there were some positive effects with this organisation. We could say it became manageable again.
Facilitator: but you really don't look that satisfied?
Me: I ended asking myself if infobesity wasn't actually a part of one's character...
Facilitator: oh! Can you explain that?
Me: The more I thought about it, the more I realised I was already infobese, even before the times of Internet. You know how books pile up next to your bed quicker than you can read through them…and this was before Internet. I think this innate curiosity, the desire to learn, makes one infobese. Then you try reducing this infobesity so that the level of frustration is reasonable. And then Internet doesn't exactly make things easy. Of course there is an abundance of information, but there is also an abundance of information in libraries…what made it different, for me, was serendipity…
Facilitator: serendipity…I don't quite understand...
Me: when I am surfing the net looking for information on a specific topic it is too easy, much too easy, to come across a new topic by chance that you know little or nothing about and that, oh God! You find interesting…and then the trap closes again; another interesting topic, so now I have two…a new person to follow on Twitter, then two…an RSS thread to follow, now it's two…it's no good choosing as you go, choices must be made at the start…and this is extremely complicated. Especially when curiosity comes by nature.
Facilitator: What next?
Me, again with a quivering voice: well, I am still infobese… I think I was able to limit the stress, but my frustration remains just as high. I have learnt to keep things in perspective, to "close the store" from time to time, to convince myself that if some information is really important, it will come back to me, to go with the flow rather than trying to chase it…I think it's a good start. There's still a long way to go but you will help me, won't you?
All: Bravo Gatien, of course we will help you!
Some tips to manage infobesity
Choosing what newsletters you subscribe to…Those you don't really read = into the trash bin
Organising your inbox, set up an automatic sorting so that you only have important or urgent emails visible
Limit your subscriptions to RSS threads to topics that you are really interested in
Do not try to keep up with all RSS threads at whatever cost; threads older than 5 days are no longer "important" (in any case, it is up to you to choose which topics are important)
Plan a moment during the day to manage your infobesity…during the rest of the day, organise your time so that you are not "bothered" by the flow of information
Don't cause infobesity in others. Only re-scoop, re-tweet and re-send things that are really relevant
Share your infobesity and find support in your friends and colleagues to reduce your own personal infobesity. If everyone searches a specific topic and chooses the relevant information and the work is shared, all group members will see their infobesity drop.
TheQgettingThingsDoneQApproach
le 10.02.2014 à 16:55:32
de 193.50.71.234
The 'Getting Things Done' Approach
Card's author :
Hélène Laxenaire
Card's type of licence :
Creative Commons BY-SA
Description :
The GTD (Getting Things Done) approach was presented by David Allen in his work : ALLEN, David. Getting things done: the art of stress-free productivity. New York : Penguin Books, 2001. ISBN 978-0-14-200028-1.

This method of organizing yourself aims to implement a strong and sound enough system to relieve your mind from things to do and from the guilt of not having done it them, in order to start working calmly. It's the same principle as the Pensieve used by the magician Dumbledore in Harry Potter : a container onto which he offloads his thoughts and memories, knowing he can find them back any moment. See below how I use it but I advise that you read David Allen's work if you wish to implement it.

Make a list of projects and divide them in operational task
When implementing the GTD approach, the first thing to write out an exhaustive list of all your plans, from the most simplistic (make an appointment at the dentist) to the most important (setting up a international collaborative colloquium) and to sort out first those that will be done soon or those which are under way and those which will be fulfilled later, maybe (learn to play the accordion). Once the list is done, you must think of the first smallest operational thing to do to get it started : "Ask Brenda the name of her dentist " or "read the card in the Cooptic e-book on how to organize participative events ". All the tasks in the list of things to do have to be operational and indivisible in smaller tasks. So instead of noting down "Plan the General Assembly ", it's better to note down "make a Doodle to set the date of the General Assembly " or even "Ask Brenda the list of members " (in order to send the Doodle link for setting the date of the General Assembly ". "Plan the General Assembly " is a project, not a task.

Define your priorities according to what you can do
One of the principles of this approach is to sort out and select things to do asking yourself : "Which action can I take here and now? ". Actually for David Allen what directs the choice of a task are its intrinsic conditions for carrying it out, before any idea of a prioripriority. Therefore each task goes along with criteria which allow to choose the one that is going to be done here and now :
1. environment : place (I can do this task only if I am at my office) or person (I can do this task only if I am with Steven) or a tool (I can do this task only if I have a computer connected to the Internet)
2. available time : I need such time to carry out this task
3. available stamina : to carry out this task I must be in tip-top form, or very careful or else I can carry it out even if I can't think properly.
4. priority : priority of the plan or of of the task.
But priority is only taken into account in the end, it does not work out the task but it works out the possible task corresponding to environment, available time and stamina that I will finally.
I decide to carry out a task only if I can really do it.

Implementation of the approach
This said, how does I t work in practical terms ?

The Entry Box
It is the first tool of the GTD approach, an entry box which receives all that arrives : mails to process, the brainwave we had while in the shower, documents, things noted down at the end of a meeting. For the brainwave while in the shower or the thing not to forget and that you remember before going to sleep (and to avoid repeating it constantly hoping you won't forget it by the morning, which is no good for a good night rest), you just have to not it down immediately and drop it as soon as possible in you entry box. This means that you have by your bed (or in the shower !) a small pen and notepad, a smartphone, a dictaphone, whatever the technical mean, but you must always have something by yourself to note down : the thing to do, to buy or the brainwave.
Everything must arrive in the entry box. For my part, I have two : one for paper (a plastic tray) one for e-data (my mailbox). Then one should treat his/her entry box(es) very regularly according to a definite procedure. For my part, I do it once a day.

Treatment of the entry box
In the entry box we pile things as they arrive : brainwave while in the shower, the latest General Assembly's report, restaurant's slip for which we need to be refunded, bills and even batteries which need recharging.
When treating it, each item is taken one by one and goes through successive filters :
Does the item need an operational treatment? ?

Yes : operational action
1. Can I treat in less than two minutes ?

if yes : do it (presto, batteries are in the charger).
si no :
2. Is it up to me to do it ?

if yes : what is the first operational action to carry out to treat it ?

I add it to the list of tasks (contextualizing it) : environment, length of time, stamina, priority)
if the task involves a special day and hour, I add it in my agenda (for the use of agenda see below)

si ifno : I delegate
No : no operational action
1. It's something for a project to come : I add it to my 'one day maybe " list
2. It's a document I will need later

It's a reference document I will need, I classify it straight away in my reference files (for example : catalogues, regulations, etc.)
It's a support document for an under-way project : I put it in the corresponding folder (for example : application form for a, article for a training session to come). It often comes with a task to carry out. So I note down in my list of tasks "Look for a copy of the association 's registration form for the subsidy request " and I classify the form in my "under-way : subsidy request " folder.
3. It's none of the former item : trash can. It goes for most of the mails and emails we receive ! Watch out not to yield to keeping everything "just in case ", it requires a real good thinking about whether ot or not the item will be needed one day. (When I started the GTD myself, I threw all the electricity bills of my former apartments, some dated from more than 15 years)
Beware : nothing must go back to the entry box, everything must be processed, in the same order as the documents. Otherwise we start again with the circle of guilt with the document that we don't want to treat and which stays in the bottom of the entry box.
When the entry box is empty or when there isn't an email left in the box : Gosh ! What a relief !

The agenda
In the GTD approach; the agenda is sacred and must be used only for what is actually and really happening at a date and a time : a meeting, a train departure. It must not be a secondary list of tasks. Indeed, the decision to start doing a task does not depend upon a chosen moment, planned upstream : "Wednesday, I start to work on the spoken's report " but of the environment. It's a safe bet that the chosen Wednesday, your colleague may be at home with her/his child to look after and that this will mean that you will have to answer the phone all day long. On Wednesday eve, the result will be that instead of enjoying the thrill of a good working day you'll be pesting because "You didn't work on the spoken's report ". That said, nothing prevents you from creating the right environment to carry out priority tasks and to book days when you just refuse all reunions in order to have time to concentrate on tasks which need it.

Files
Both paper or digitalized files are of two kinds, those which refer to under-way projects (meeting reports, etc.) and those which enable to classify reference documents. David Allen proposes to create a folder for each project, as small as it is even if it only counts one sheet of paper rather than having a system of folders and subfolders. All the folders can be prefixed in order to be recognized easily (for my part, all the under-way projects folders start with UW – and all folders with reference documents start with Rdoc - ).

Updating
Regularly, the task's list must be checked to see which plans are over but also to see if they are new tasks to carry out. It's an opportunity to tidy up folders of under-way projects which are finished. Operational documents are deleted and some support documents can go into the general references. It's also the time to read again the list of "Maybe one day " projects just to see if the moment has not come !



Crédit Photos : carlescv sur Flickr - CC By-SA
UsingGoogleMapsForCollectivePurchasing
le 15.01.2014 à 11:09:21
de 193.50.71.234
Using Google Maps for collective purchasing
Card's author :
Françoise Viala
Card's type of licence :
Creative Commons BY-SA
Testimonies :
This tool was created after a reflection process in the association Pic'assiette, on how to give visibility to citizen initiatives on group purchasing.

How it works
It is not the association creating the groups, but the association does invite citizens or producers to join their closest group, or even to create a new group. Citizens who do not know each other give their contact information and then Pic'assiette puts them in contact using their geographical location.
The idea was therefore to:

show something that already existed to a new audience and also to groups that already existed. Indeed, between Nimes and Montpellier there are several groups that don't know about each other. Each group has its own way of doing things, its own set of questions, but there is no exchanging.
create a link, exchanging between groups!
This really does work thanks to events that are organised independently, without the association Pic'assiette intervening.
Beyond creating a link, the aim is to reflect collectively on how to help diversify the output of producers and make it last without falling back on the same group of people the whole time.
Everyone is free to participate without need to register for references. The referencing part has mostly been done already by the association Pic'assiette, which took the time to meet and exchange with the groups close to Montpellier; then the groups met and managed their own meeting times, their agendas, etc…totally independently.
The tool was used as a model to create a reference map for citizen collective purchases in the region of Languedoc-Roussillon. (http://site-coop.net/gaclr/)
The main advantage of this type of maps is that it makes an initiative visible very quickly.

Some points to bear in mind:
They must be updated
People need to be trained
There must be facilitation. The tool is not sufficient in itself, it must be made known to people at stands, open doors.
What next?
The second stage is to reference the tools allowing to place an order, all the tasks and actions required for the group to continue in time. The association has participated in Moustic Gathering to make this whole process even more collective and collaborative.
Filter :
autoformation
bureautique
cohérence
communication
Communiquer et échanger
complexité
concept
Concevoir et animer un projet
coopération
Créer/fonctionner en réseau
débat
Enseigner/former
formation courte
formation longue
heuristique
idées
ils l ont fait
initiation
méthode
Organiser et planifier
Organiser un évènement à plusieurs
outil
Outils-réseaux
Parcours animer un projet coopératif
Parcours animer un réseau
parcours ça fume
Parcours communiquer rendre visible son projet
Parcours court animer un projet coopératif
Parcours formateur 2.0
Parcours introduction coopération
Parcours rédiger publier
Parcours technique
Parcours veille collaborative
Parcours1
Parcours2
Parcours3
partage
Partager et construire collectivement des ressources
Partager et diffuser sa veille
Produire et gérer du contenu
publication
Télétravailler
Travailler ensemble et à distance
Veiller
Visualiser des données
---